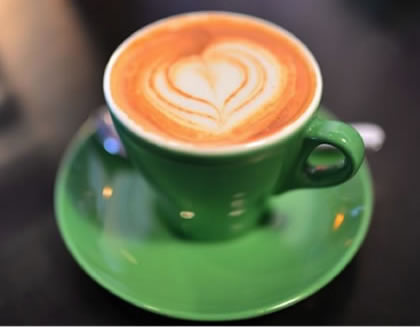 It's the Weekend and You're in Bunnings! Leave the trolley to one side, walk away, head up, shoulders back, take pride. Get to the cafe, you deserve it, you've worked all week afterall.
Sterling Painters Blog Posts

Painting The Dream House (From The Seventies!) - "Nostalgia, remembering better times, when I was young, things were better then."
If you don't know that it's all about Pineapples this year! Where have you been? What Does Your Paint Colour Say About You?
The Emerald City vs Monopoly - Colour, finally there's some colour in my life! Monochrome no more. Stuff of childrens' stories and childhood games.
Let's Face It, It's Not Going To Happen! The Gender Gap, Her List vs. His List
Painting Projects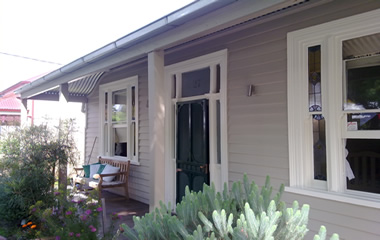 Exterior House Weatherboard & Modern Extension, Flemington.

Exterior of unique extension & traditional weatherboard house. Varnished doors, windows, eaves and decorative features.
Colours: Linseed, Ecru 1/4 strength, Army Issue. Paints: Dulux Weathershield Acrylic Low Sheen & Semi Gloss. Intergrain Ultraclear Satin
Customer Quote: "Thanks for your work, we're really happy with the paint job."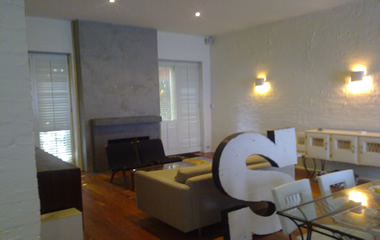 Tasteful Interior House Project, Kensington.

Three storey interior painters assignment. Originally a hotel, subdivided into apartments. Stylish renovation. Three storey stairwell and painted textured walls.
Colours: White Swan, Primrose, Hibiscus Bloom, Black Russian. Paints: Dulux Wash & Wear Acrylic Low Sheen & Flat, Dulux Super Enamel Semi-Gloss
Customer Quote: "Thanks for doing such a good job."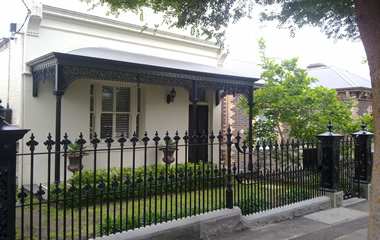 Classic Exterior House Project, Hawthorn.

Exterior of Victorian house. New wrought iron fence and gate. Wooden modern slat fence in back garden.
Colours: Vivid White, Black, Njambie. Paints: QuitRust Enamel. Dulux Weathershield Acrylic Low Sheen
Customer Quote: "Wonderful job, many thanks."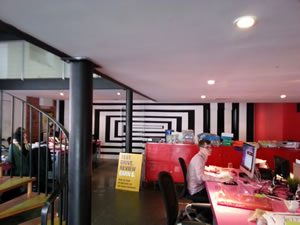 Trending the Accent Wall. Melbourne

Sometimes we get asked to do very interesting painting jobs, and as painters we love them. Challenging our skills is as enjoyable for us as anyone. The square spiral on a wall was difficult enough, but add two doors to the mix!
We used masking tape for the first time in ages, small 'nook and cranny' painting rollers, and it wasn't until it was dry and we'd removed the masking tape that we finally knew we hadn't made a mistake! Vertigo has to be the best way to keep staff at their desks!
This is the second time that we've painted for Media Company Naked Comms, putting their creativeness into practice.
Paint & Colour: Walls - Blackboard paint. Doors - Dulux Super Enamel Semi Gloss - Black.
Customer Quote: "It looks awesome - everyone is getting use to it ;)."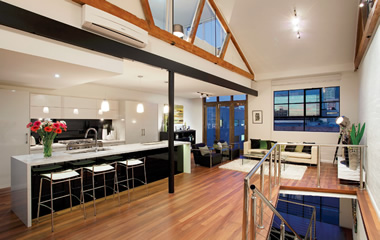 Preparation is the key to any quality job, carefully prepared surfaces will affect the end result and a successful interior project. We take our time with the preparation.
Sterling Painters Melbourne work with you and your family, so now decorating does not need to disrupt a family's lifestyle!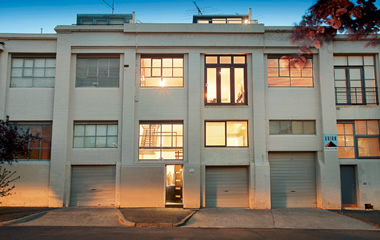 The way your home's exterior looks is a reflection of you. In order to present a character of well being and interest in your home, you must make sure you have a professional exterior painted finish that will show you and your home off.
Painting your own home is a labour-intensive task, taking hundreds of hours, how many of your weekends is that? However Sterling Painters Melbourne will protect your home from the elements, saving you money.