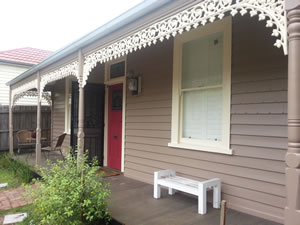 Painting Weatherboard Exterior
As weatherboard exterior painters, we never tire of painting weatherboards. Whilst they all look similar, no two are the same, they all have their own personalities, does this have something to do with the owner?
This weatherboard house was no exception to the rule. The rule being preparation and yet more preparation. Sanding, more sanding. Filling and gapping, sometimes we even get to paint!! Usually, with painting a weatherboard house, the preparation takes longer than the painting. Why? Because this is the 'rule'!
How your home looks is a reflection of you. A well painted house, and well kept house, tells the world what you think of yourself. We paint many sorts and styles of weatherboard houses. From the classic and grown up weatherboard, with black painted front doors, to the cheerful cottage, with bright friendly colours. How do you see your weatherboard house painted? What will the paint colour scheme say about you? Are you as stylish as this weatheboard house owner?
Dulux Popular Exterior Paint Colour Schemes Here to give you a few ideas, but if you have a strong idea already, go with it.
Paint Used:
Dulux Weathershield Low Sheen – Gaiety Tan.
Dulux Weathershield Gloss – Clotted Cream.
Weathershield Dulux Low Sheen – Monument.