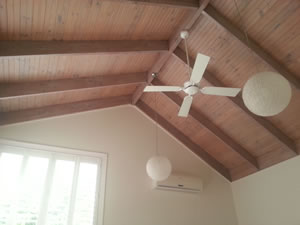 Lime Washing Over Another Decade
A bright orange varnished ceiling, showing the dated look of the extension. Making the ceiling look as if it were just a metre or so above your head. Well something has to be done! Lime washing. What would we as Interior House Painters do?
The customers originally wanted the ceiling painted white, however this would mean every crack inbetween the panels would show. We recommended painting a white wash or a lime wash to calm down the wooden panels instead and the customers were happy to go with this.
One of our problems was, we had was the wooden panels. Which were originally varnished with an oiled based varnish. That means we had to apply an oil based product too, because oil and water don't mix. White wash and Lime Wash usually are acylic (water-based)! Taking advice from the PaintSpot paintshop, we used a 'lime wash' formula and tinted up an oil based varnish.
Painting Techniques
Random is very hard to achive. We have to apply the varnish evenly, and because it's varnish we have to apply it by brush and not by roller. Using a roller would even out the lime wash into a opaque liquid, which is not a good look anyway. So we brushed this ceiling by hand, three times!
Paints Used:
Wattyl Estapol Clear Satin – Lime Wash