The days are getting longer…
…and before you know it Spring will be with us, and then you'll be settling down for lunch with friends in your beautiful freshly painted home.
The most difficult task in painting your home, isn't the painting, we'll do that, but you choosing the colours. Here's a little help…two words Colour Consultants.
Well have our own Sterling Colour Consultant, she's very good and, yes, picking colours isn't as easy as you might like to think!
Inspiration: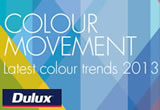 "We are in motion, movement is all around us – a blur of colour, a subtle shift of light, a merge of shadows. Movement is social change, the rise of a nation, the protest of people, the progress of the digital age. The Dulux Colour Forecast – Colour Movement, explores how colour is moving around us, shifting and changing along with our world and all that is in it."
Dulux as always provides lots of seasonal ideas, and gadgets to help. 'MyColour Visualiser' as great tool, just upload your picture and literally colour it in.


Pinterest is great for ideas, search for 'Weatherboards', 'interiors' or if you're after a particular look, search for that. And yes Sterling Painters have been pinned a few times.
Pinterest in Sterling Painters
If you see a house in your suburb that you like, yes we can ask for the colour scheme for you. As the quote says "Imitation is the sincerest [form] of flattery" – it's okay to ask your friends too!
Help! If all else fails then there's always help available…
Need some other professional advice on colour?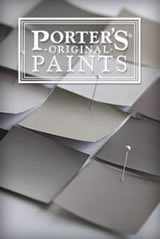 Porter's Paints pride themselves on the specialist advice their staff offer customers every day in their showrooms on colour and product selection. They can also offer this advice to you in your own home through Porter's Paints on-site consultation service.
Their team is made up of fully qualified colourists who have extensive experience in developing interior and exterior colour schemes and have an in-depth knowledge of Porter' Paints colours and products.