Wallpaper Installation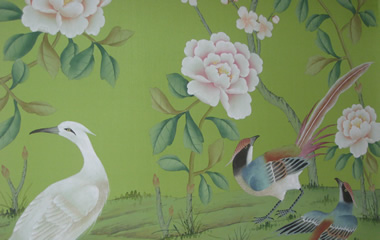 Wallpaper Hanging

We have many years of wallpaper installation experience, through dealing with some of the finest wallpapers around, you can take it for granted that we will do a quality job.
Preparation of the walls is so important even though they will be covered, bumps and nicks will still show through. Sizing the walls gives longevity - afterall you want the wallpaper to stay up rather than peel.
Wallpaper can add new dimensions to your home. Once again fashionable, since it's tacky heyday in the 60's and 70's, it's proving to be both cutting edge and classical.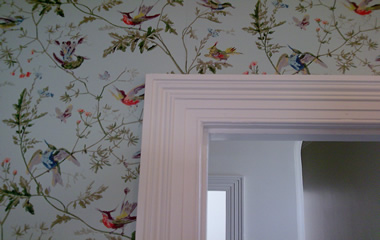 Wallpaper Hanging

Wallpaper can add that air of elegance and luxury, reproduce a retro look or add texture, bamboo/metallic for starters, to a home, a room or just to a feature wall.
Traditional wallpaper, made using age old techniques, or modern handmade individual wallpapers are top of the list with people wanting to create an environment that says just a little more.
Wallpaper Considerations
Delivery Time:
If your wallpaper is from overseas, if could take 6-8 weeks to arrive.
Handmade Wallpaper:
The pattern may not match precisely even within the roll. Always order more than enough at the same time. The next batch may be slightly different. Always check all the rolls for batch numbers, differences, defects and damage.
Repairs. Order extra rolls for future repairs.
Walls:
Wallpaper WILL NOT cover defects in walls.
Walls should be fully prepared beforehand. Walls have differing porous attributes, they will need to be primed/sized first. If the walls are not completely flat, the wallpaper will not hang flat. Consider a plasterer to skim the walls first.
To reduce the effects of contraction/expansion of the wallpaper due to weather/air conditioning/heating, it is recommended priming/sizing the walls the same colour of the base colour of the wallpaper. Seams will be less visible.
After Hanging:
DO NOT TOUCH wallpaper during drying time. Touching the wallpaper during this time WILL damage it.
Allow to fully dry, 2 days normally, air bubbles, visible joints will disappear in the drying time.
Do not use air conditioning/heating during drying time. Allow to dry naturally.
Wallpaper Hanging Instructions
Use a high quality tub paste instead of dry packet paste.
Before Hanging:
Most wallpaper comes with it's unique instructions, please read thoroughly.
Check the Wallpaper Considerations above.
Do you have enough rolls to complete the job? Check the direction of the design, sometimes this is not as obvious as you would like to think. Always check against a source image.
Preparation:
Check the Wallpaper Considerations above.
Darker/coloured Wallpapers: Use a pastel to colour in the white edge of he wallpaper, or they will show.
High Gloss Wallpapers: Take more care preparing the walls perfectly, ensuring a smooth finish.
Mark out the wall for each 'drop' of wallpaper. Know where each are going. This way you can make difficult drops (around windows and other obstructions) easier. It's good to start behind the door. The first couple of 'practice' drops are hidden this way. Use a plumb line on each wall for a vertical line.
Pasting the Paper:
Follow the Manufacturers Instructions.
Apply the paste evenly across the entire sheet, making sure the edges are covered. Do not over relax (soaking) the product. A time is stated on the instructions.
Pasting the Wall:
Paste the wall rather than the back of the wallpaper
Hanging Wallpaper:
Butt all joins, do not overlap. Remove excess wallpaper with a very sharp blade and straight edge. Remove all paste from the surface of the wallpaper and ceiling and skirting boards straight away with a damp sponge.